Dear friends!
I am Igor Vovchanchyn - Ukrainian professional kickboxer and MMA fighter, world kickboxing champion according to IAKSA, winner and prize-winner of many MMA tournaments.
On February 24, Russia invaded my country. The Russian army is constantly bombarding my native Zolochevsky district. Part of the Kharkov region is occupied. Fights are taking place in the immediate vicinity of Kharkov, where I live now.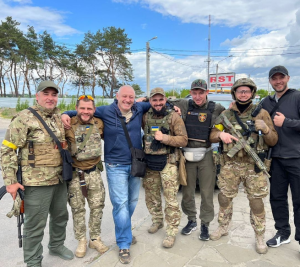 From the beginning of this war, my friends and I did our best to help our army in the fight against Russian aggression. I am engaged in volunteer activities, we deliver everything necessary for the speedy victory over the enemy.
Now our fighters need quadrocopters (Autel Dual 640T) to search for enemy firing points and other necessary things.
Anyone who can help - please donate to my personal PayPal account -

igorvovchanchin8888@gmail.com
A report on the received funds will be published under this post.
Many thanks to everyone who is not indifferent to the fate of Ukrainian people and the world.
Glory to Ukraine!
P.S.  Igor Vovchanchin's MMA club continues its work in Kharkiv. Our club works despite the difficult situation. Igor Vovchanchin conducts classes at the club. You can find out about the everyday life of the Vovchanchyn Team club and about Igor Vovchanchyn in Igor Vovchanchyn's instagram -